Description
Featuring hundreds of fun facts and on this day in history information. Like a snapshot of the newspaper from
the day they were born
. It's personal and unique and it's an amazing way to celebrate your loved one's special birthday.
A fun and nostalgic newsletter. Take them on a trip down memory lane!
Product Images
Here are some pictures of both sides of this dual-sided gift.
PDF download
A digital PDF download link is provided to you after your order is placed. You are free to print it, enlarge it, or make as many copies as you like to pass out at their birthday celebration.
This unique and beautiful 20th birthday gift poster is a fun blast from the past.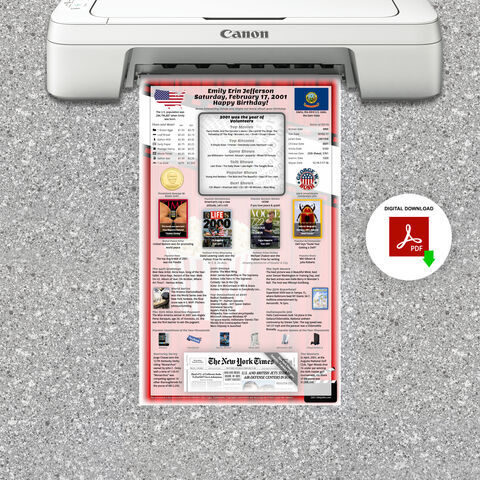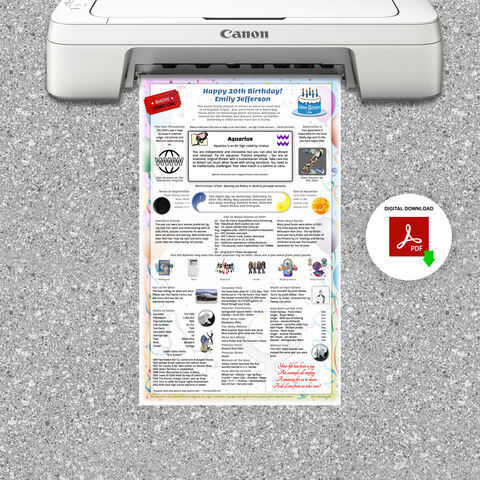 Printed
We print the gift using a heavy 60lbs card stock and a color laser printer. Then we mail it to you or directly to the recipient.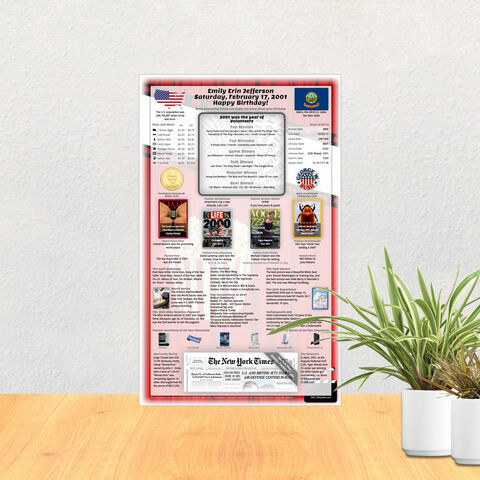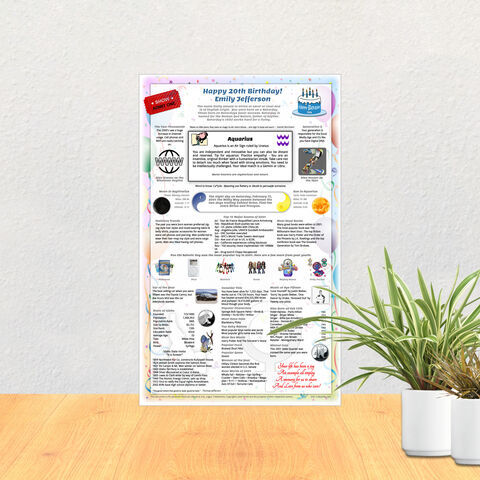 Laminated
We print the gift using a heavy 60lbs card stock. We laminate it using a thick laminating pouch with rounded corners. This will shield and protect the gift. We ship it to you or directly to the recipient.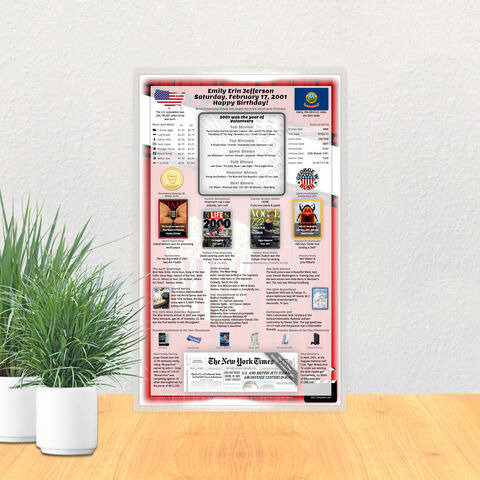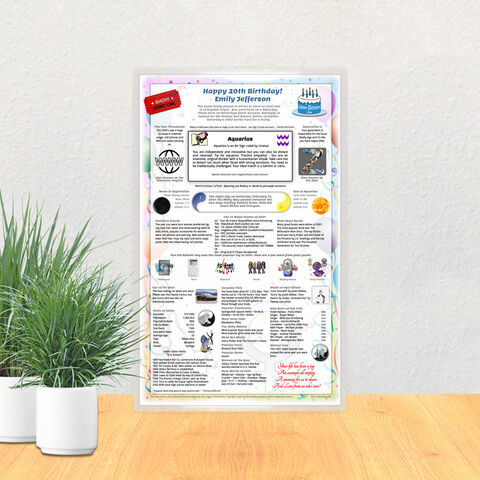 Stand
We print the gift using a heavy 60lbs card stock. Then we cut and heat bend a clear Plexiglass stand for it and slide that into a walnut wood base. Making a unique and beautiful base stand to show off both sides of their gift.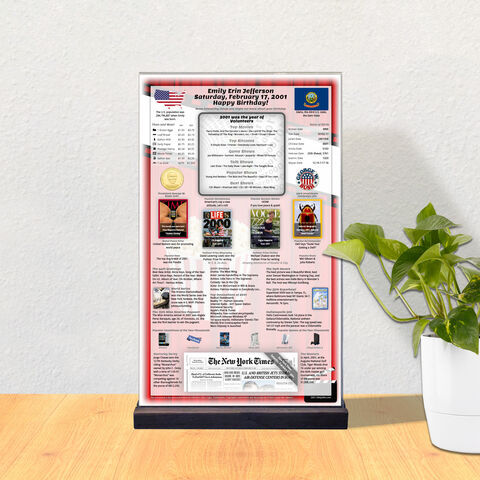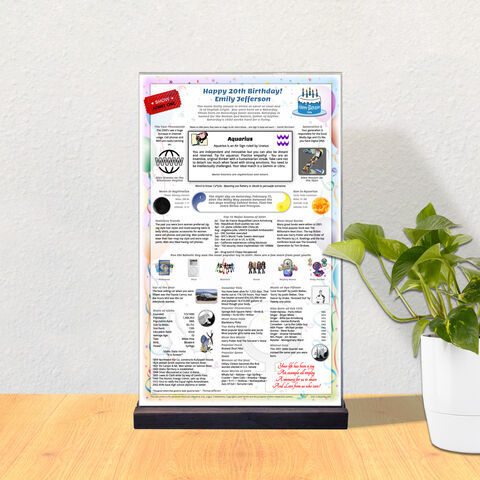 Framed
We print the gift using a heavy 60lbs card stock. Then we build a special dual-sided viewing frame from solid wood by hand. Inside the frame is two pieces of Plexiglass with the gift sandwiched in-between.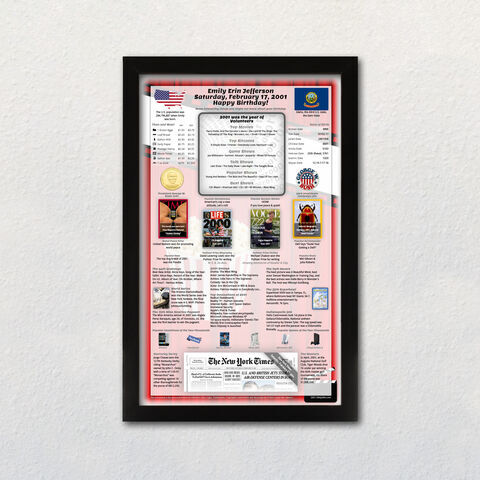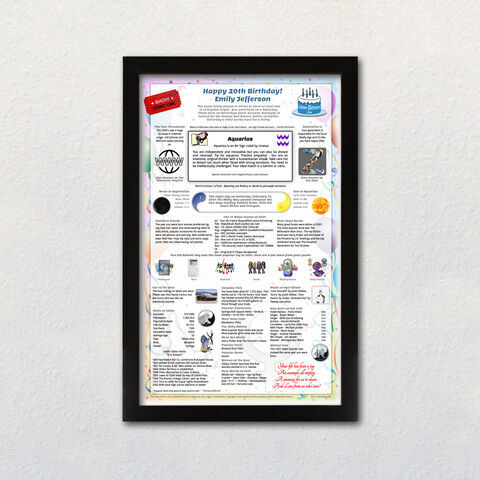 Larger
Here is a larger view of the front and backside.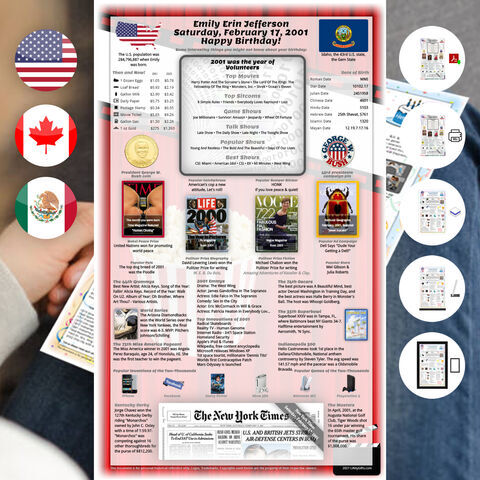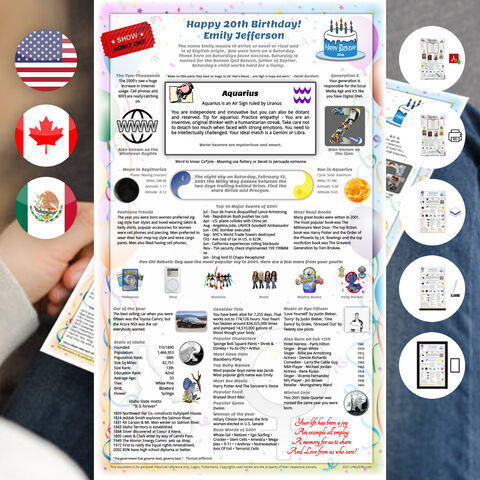 Birthday Party
Can be used as Party Favors, pass them out at the door or display one at each table, good for any birthday occasion.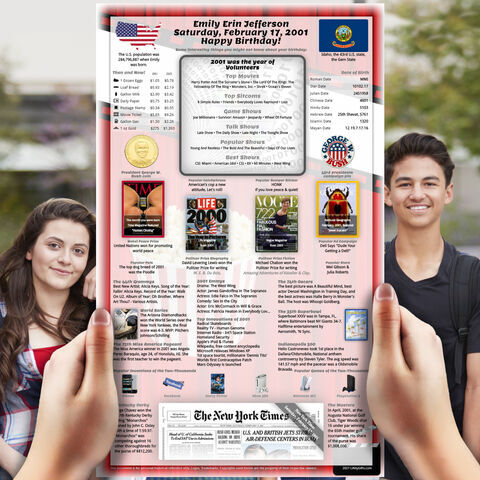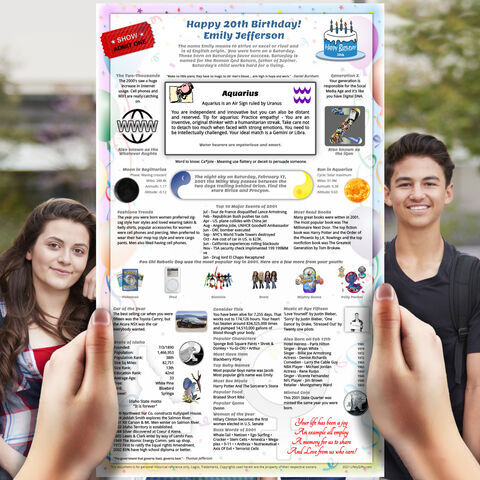 Take them on a trip down memory lane with this personalized 20th birthday poster.

A Unique and thoughtful birthday gift, a personal way to celebrate men or women born in 2001.

It's a gift that celebrates your loved one's birth and life as well as the milestones along the way. What were the most beloved toys when they were a child? What music was popular when they were old enough to care about music? What was the most desirable car to have when they were old enough to drive? It even includes historical figures and famous people who share their same birthday and so much more. A personalized 20th gift featuring over two hundred fun facts and figures. It's like a custom newspaper from the day they were born. Personal and unique it's an amazing way to celebrate your wife or husband and even a girlfriend or boyfriend special birthday. A gift like no other, perfect for your grandmother, grandfather, aunt, uncle, or anyone having a birthday!

You pick the background and supporting imagery of the gift by selecting their interests and hobbies. Their birth date, name, gender, place of birth, or home state, all play a role in what appears on your customized 20th birthday gift.

Key Features of this 20th birthday decoration:
Dual-sided - Beautiful on both sides
Themed - Based on their interests
Size - Measures 8.5 x 14 inches
Download - Instant Download PDF
Personalized - Pick the look and a personal message
Birthplace - Choose from the USA, Canada, or Mexico
Finishing - Framed, Stand, Laminated, Printed
Shipping - Free Shipping!
Rush options available
100% - Satisfaction Guarantee!

Our products are for personal use only. Our products are not allowed to be resold or redistributed and are not for commercial use.

A unique 20th birthday gift for him or her. Use as a birthday decoration for a 20-year-old man or woman by printing it extra-large, like a sign or poster. You could use it as a printable birthday table decoration by making copies and setting them out at each table before their birthday party. You could mail out copies to the whole family and then talk about it over a phone/video/chat/ call on their special day.
A thoughtful 60th birthday gift to celebrate your mother, father, brother, sister, grandpa, grandma, aunt, uncle, daughter, son, wife, husband, mom, dad, or grandparent's special day.
Don't buy them a gift they will forget about in a few weeks, send them a lasting memory for their 20th by sending a gift as unique as they are.